Cat5 KVM Switch With Analog/Digital Video and Stereo Audio
Raritan's MasterConsole® Digital KVM switch (MCD) is ideal for small to midsized businesses (SMB) who need to have a centralized point of access to multiple servers without the expense and clutter of a dedicated keyboard, mouse, and monitor for each computer or server. The MCD supports the highest HD video resolution of up to 1920x1080 via standard Category 5/6/6e cabling. The multi-format video interface supports both Analog — VGA and Digital — DVI, HDMI and DisplayPort. Stereo audio is also supported by using VGA combo cables or MCD's HDMI adaptors.
MasterConsole® Digital KVM is available as a single-user switch and a dual-user switch to control multiple servers. It features KVM ports for 8, 16, or 32 servers and can be cascaded 2 levels to support up to 1024 connections at distances up to 150 feet (45 meters). Connecting to a computer is made easier with the use of standard Category 5/6/6e cables. MCD provides a friendly OSD (On-Screen Display) interface and hotkeys for quick and easy access connected computers.
It is ideal for performing system maintenance, administration, running applications, and troubleshooting.
Learn More About
MasterConsole® Digital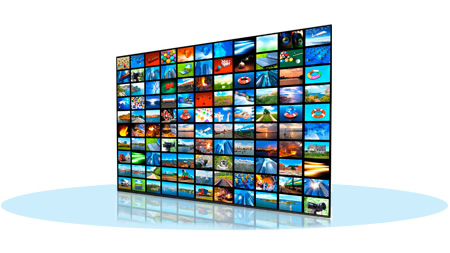 Video resolutions support up to 1920x1080
Supports 1920 x 1080 video resolutions at 150 feet.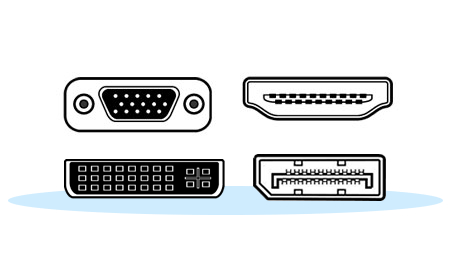 Support HDMI/DVI/DP/VGA video interfaces and stereo audio
MasterConsole Digital series supports severs with both analog (VGA) and digital video: HDMI, DVI, and DisplayPort (DP). Audio is supported by Raritan's MDCIM-HDMI or MDUTP VGA KVM combo cables.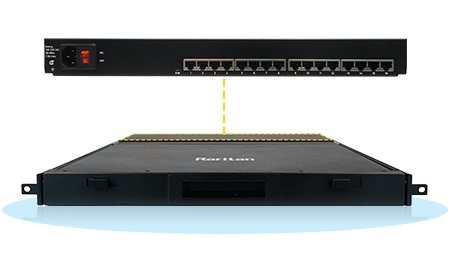 Integrated Switch & Console Drawer
Also available as a space-saving 17'' Console Drawer and Integrated KVM Switch (MCD-LED)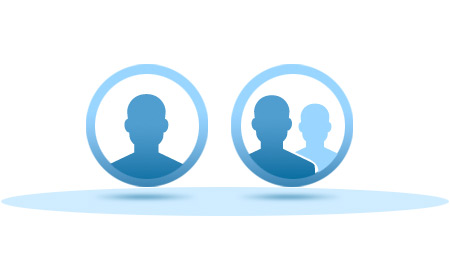 Single and Dual User can manage 8, 16, and 32 servers
Single and dual user models can manage 8 to 32 servers. By cascading with Raritan's MDCIM-DVI or MDUTP cables, up to 1024 servers can be managed.
Additional Features
AutoScan / AutoSkip
AutoScan allows users to scan servers at variable rates for effortless monitoring. AutoSkip allows users to bypass inactive channels.
Cascading for Expansion
Users can control up to 32 servers. With the MCD-232 models, users can expand up to 1024 servers by cascading the units.
Intuitive On-Screen Display
Plug-and-play installation, auto-configuration, and easy-to-use on-screen displays. Targets can be labeled with device names for easier server selection from the OSD.
More Information
MCD Model Information
| | | |
| --- | --- | --- |
| Model | Users | Ports |
| MCD-108 | 1 | 8 |
| MCD-116 | 1 | 16 |
| MCD-216 | 2 | 16 |
| MCD-232 | 2 | 32 |
---
Topology Diagram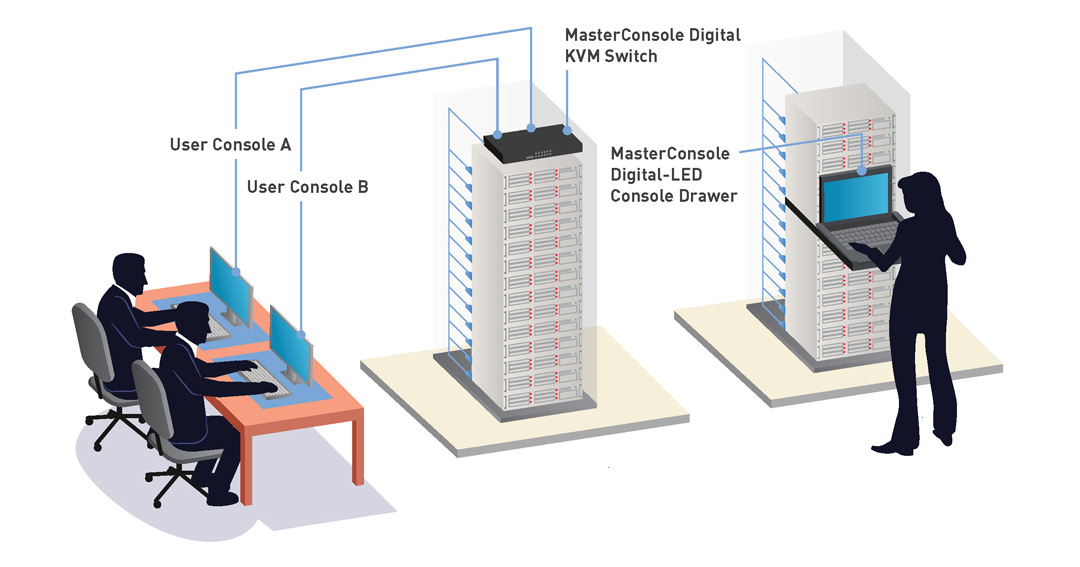 Computer Interface Module (CIM) for MasterConsole® Digital
---
A CIM is a "server dongle" that connects a PC, server or workstation to the MasterConsole® Digital via a Cat5/6 cable. There are multiple types of CIMs to support the different types of computer ports (USB, PS/2, VGA, HDMI, DVI, DisplayPort, serial) and to perform features such as virtual media. Use the table below to locate the appropriate CIM. For more detailed information, consult the
KVM Product Selector
.
| | | | | | | |
| --- | --- | --- | --- | --- | --- | --- |
| Part # | DVI | DisplayPort | HDMI | VGA | Audio | Cable Length (ft.) |
| MDCIM-DVI | | | | | | 150 |
| MDCIM-HDMI | | | | | | 150 |
| MDCIM-DP | | | | | | 150 |
| MDUTP20-VGA | | | | | | 6 |
| MDUTP40-VGA | | | | | | 12 |
| MDUTP60-VGA | | | | | | 18 |
| MDUTP150-VGA | | | | | | 45 |